Canada Reads - Book Trailer
A book trailer animated for Canada Reads 2021, a CBC Radio and Television annual program where, over 4 days, celebrity panelists talk about 5 great Canadian Books. The debate is broadcast nationally on TV, radio, podcast and online.
The Canadian Broadcasting Corporation (CBC) approached me to direct and create a 1-minute visual trailer for their television and online audience. The book my animation championed was Two Trees Make a Forest by Jessica J. Lee.
STORY RESEARCH
I was provided with a copy of the book which I read and made notes on specific Taiwan locations, plants and animals mentioned in the story. This way I was able to keep true to Jessica's travels, and use my notes and image bookmarks for inspiration and visual guidance.
BACKGROUNDER
The production team has forwarded me a Backgrounder to inform my art direction with notes on key characters, author info, notable book reviews and key themes of migration, gaps, mixed-race identity, mapping, language/translation and memory.

I proceeded to create a mood-board and we quickly established that the feel of this tailer should be elegant, grounded in Chinese ink painting tradition, and informed by the natural world.
VO TRACK & ANIMATIC
Using the voice-over scratch track, I developed an animatic to test the visual direction, timing and pacing of the script.
This rough cut was drawn in b/w and allowed us to explore how many scenes I'll need to animate for the final cut. Also, to make sure the pacing is on the slower side since we wanted to match the pensive tone of the book.
With the animatic approved, the CBC team recorded Jessica J. Lee for the VO and completed the final audio mix for all platforms in-house to ensure uniformity and proper audio quality for broadcast.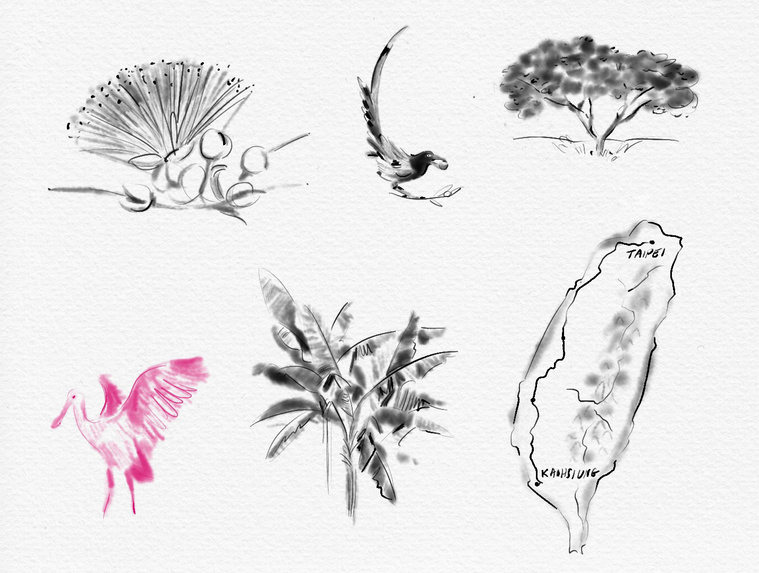 ART DIRECTION
Moving into the next stage, I experimented with the drawing style art direction. We settled on a mix of delicate watercolor wash with elegant ink lines that would tie in with the Chinese painting tradition that Jessica talks about in the book.
ILLUSTRATION REVEAL ANIMATION
I used "illustration reveal" animation technique that showed delicate ink illustrations "washing in" / revealing in synchronization with the voice-over and music cues. In terms of scene changes, I used dissolve transitions which played into the pensive, elegant mood and symbolized a passage of time. Each illustration was hand-drawn in Procreate and the reveal was animated frame-by-frame in Photoshop timeline.
DISTRIBUTION & PRESS
The animated trailer was released on Canada Reads, broadcast on:
Television at CBC TV, for an average audience of 1.1 million;
online at CBCbooks.ca;
social media (reaching 32.4K @cbcbooks IG audience);
and the free CBC streaming services, CBC Gem and CBC Listen.
The Canada Reads debate show was streamed on TV, podcast, radio and online, reaching ~ 1 million views.
Canada Reads is an annual "battle of the books" competition organized and broadcast by Canada's public broadcaster, the CBC. The program has aired in two distinct editions, the English-language Canada Reads on CBC Radio One, and the French-language Le Combat des livres on Ici Radio-Canada Première.